This year plan your holiday tours to an extraordinary destination, Incredible India. On the Golden Triangle tourist circuit of India, indulge in tiger safari in India, visit the land of one of the seven wonders of the world, the Taj Mahal, the eternal monument to love, dine like Maharaja's, get to know the history of mighty Mughal Emperors at the fascinating Agra fort. India's bazaars are a shopaholics delight. Relax with a fabulous night of Bollywood magic at the Kingdom of Dreams.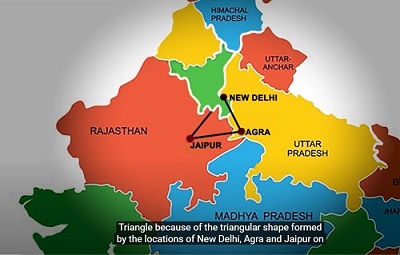 Delhi- Agra- Jaipur; three of the country's most dynamic city centres will be in your golden triangle map which will cover almost 720km distance on the road. Every destination is 3-4 hour journey via road.
Avail the discounts and offers and Book the most luxurious and flexible Packages of Golden triangle tour in India. You can make refundable advance booking at leisure India holidays, the leading travel agent of India and seal the dates of the ultimate journey to the soulful golden triangle of India.
1) Unique itinerary for India Golden triangle tour
The tour starts and finishes in Delhi. Unlike any other destination, India is mystical. Despite all your pre-research nothing could be prepared for this extraordinary experience. It's absolutely enthralling; the colours are electric; the tastes are exotic and the pace never lets up. Just when you think you've got it all sorted, think again after all this is India. The monuments, museums, markets and magic are all waiting to be discovered. LIH leisure India holidays, the leading travel agent in India's fully inclusive itinerary, three-day golden triangle tour, 5-day golden triangle tour, 7-day golden triangle tour, or 9 days golden triangle tour is the perfect introduction to incredible India.
2) Unique time to Visit Golden triangle tour in India
The best time for the foreign tourists particularly the travellers with the distinct climate like from USA, UK Europe Australia, we suggest that September, October, and November. Late December, early January can be a bit hazy.
3) Unique advice to First-time tourists to India's golden triangle tour circuit
The top piece of advice that we would give to the first time tourist to India is: don't expect things systematically. You can easily survive the last minute radical changes with your good tour operators in India. Be confident in them, be flexible, and be prepared for different wonderful things and be prepared to have an amazing adventure.
4) Unique idea on where to stay on golden triangle tour
The accommodation on this tour is basically majestic. The luxurious Oberoi Hotels, or 3 stars or 4-star property are safe, clean and comfortable. All of them follow the proper protocol to fight against Covid-19, pandemic disease spread worldwide. Choose the heritage hotels for a unique stay on your golden triangle trip. The authentic interior and cuisine served in these hotels is the perfect way to know the traditional and soulful India in the most knitted way. During your homely stay in such hotels, you might end up making local friends or mind-like people coming from the USA, UK, Australia and other parts of the world.
Unique Things to do in Delhi-Agra and-Jaipur
At the top of the triangle you have Delhi across to the left Agra and the famous Taj Mahal and
across to the right the pink city of Jaipur and within that triangle, you have many of India's top tourist attractions like Ranthambore and Sariska, for tiger safari, Fatehpur Sikri. You get to see quite a few of them on this tour starting off in the captivating of it all with its magic and mayhem.
Unique Things to d in Delhi
Welcome to Delhi, India's perennial capital city comprising old and New Delhi. The 5 unique things to do in Delhi are:
5. Steaming hot cup of Chai at the medieval marketplace of Chandni Chowk.A cup prepared with exotic spices is quite perfect morning pick-me-up
6. Explore this bustling market flooded with cheap stuff like traditional dresses, artefacts, souvenirs, cosmetics, footwears, carpets, and many more. Don't forget to gulp some mouth-watering street food in Delhi.
7. Visit the Magnificent Jama Masjid mosque and Lakshmi Narayan Hindu temple and celebrate secularism profoundly.
8. Celebrate the liveliness, hospitality with Delhiites while sightseeing Connaught place, Hauz KHAZ, Saket, and other areas of South Delhi.
9. Plan a day to NCR Gurgaon, Noida with family and friends, to explore high tech malls and shopping centres.
Unique Things to do in Agra
From Delhi when you move toward left, you will be en route to your next destination Agra. Agra Fort, Taj Mahal are two premier heritage sites recognised by UNESCO having thousands of visitors coming daily. The unique things to do In Agra are as follows:
10. A long walk in the garden of Taj Mahal premises is a must for a honeymoon couple. The beautiful well-maintained garden looks even more beautiful and greener in the early morning.
11. Spend some time at Agra fort and learn about interesting facts and history of Agra Fort from the local guide or professional guide of your tour operator.
12. Choose a local restaurant to relish on the world-famous aloo tikki chaat and Beda puri and Aloo Sabzi.
13. Mesmerise in exciting light and music shows held at Agra fort every night. The tale of Mughal emperor impersonates most strenuously.
14. Enamoured with the natural beauty of Taj Mahal in the white light of the full moon.
Unique Things to do in Jaipur
Jaipur is your next destination, right to Agra. We know the pink city of India for its profuse landscapes and majestic palace. The royal city is rich in heritage sites, culture and hospitality.
15. Hot-air balloon ride for some unbelievable panoramic view of the mountain, palaces, savannah, and rivers.
16. Camel ride and elephant throughout the terrains of Amer Fort for one bumpy ride of a lifetime.
17. Photoshoot for your coffee-table book or personal portfolio at Patrika Gate.
18. A movie at the Raj Mandir theatre, an extravagant showcase of royalty.
19. Morning prayer at Govind Dev Mandir in the walled city, a unique amalgamation of natural divine power with their disciplines.
Every traveller wants to explore something new and offbeat,  on their voyage all the time. I was no different, I love travelling to such offbeat places and find a new meaning to every culture and place. I have shared the list of unique ideas I consider is safe and worthwhile on the Golden triangle tour in India. Travelling is a passion for many and as a fellow backpacker, I take immense pleasure in sharing my experience with you all.  Please comment if You find these ideas useful and also share your experience with me. Thank you.

Read here to more about – Explore Delhi