How to Draw Harriet Tubman. Throughout history, many wrongs have been done to others, which is an unfortunate element of any era.
Also, check our printable panda on our Official Website, The Soft Roots.
While there are too many atrocities against others, there are at least many instances of those who have stood up to fight it.
Harriet Tubman is a case in point, and it's hard to find anyone who has done as many brave acts in the fight against slavery and injustice as she has.
Many history buffs love to learn how to draw Harriet Tubman to honour this incredibly brave woman.
We'll focus on that in this tutorial in front of you!
How to Draw Harriet Tubman
Step 1
Drawing real people is often complicated as people recognize a certain aspect that needs to be accurately recreated.
For that reason, in this guide to drawing Harriet Tubman, we're going to break it down into smaller, easier steps.
With that in mind, we'll work on outlines for the face and hair in this step. We'll use a simple curved line to outline her face.
Next, we will work on her hair. For this outline, we'll use an irregular line to replicate the texture of her hair. Once you've drawn those outlines, you're ready for step two of the tutorial!
Step 2
This second phase of drawing Harriet Tubman could be the hardest part of the process!
However, you don't have to worry because we'll show you how to draw these face elements.
This step requires you to copy our example exactly as it looks.
It would help if you used a pencil first, so you don't have to worry about making mistakes or getting it perfect the first time.
Use some smooth lines for her eyes and add eyebrows over them. Next, draw his nose between his eyes, and you can finally draw his lips.
Ideally, we create a fairly intense expression for them. Then we can continue with step 3 of the guide!
Step 3
They drew her face, and in this step of our tutorial on how to draw Harriet Tubman, we will focus on drawing some of her clothes.
In particular, we draw her collar and the upper part of her dress. First, use curved lines to create straps cross over the upper bust.
Next, we'll use curved lines for the top of her shoulder.
Once we have drawn all of these details in our example image, we can add more clothing items in the next step of the guide.
Step 4
In this fourth part of your drawing of Harriet Tubman, you'll outline her clothes. This prepares you for some final details and items in the next step of the guide!
First, use some more curved lines to draw another strap going down. Once this is drawn, you can use some more rounded lines to draw his shoulders.
That's it for now, and then in the fifth step of the guide, we'll wrap up with the last mentioned details!
Step 5
So far, you've done a great job with this tutorial on how to draw Harriet Tubman, and in this fifth step, we're going to focus on adding some details and putting the finishing touches!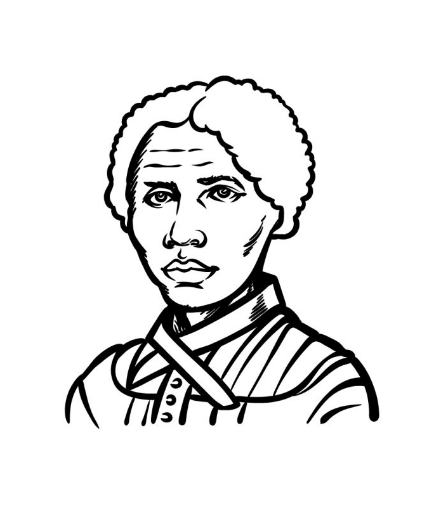 To do this, we'll add some small curved lines across her face to add more depth.
You can also add some minor details like small circles at the waistband of her dress for some small buttons.
Once you've added these details, you're ready for the final step of the guide! However, you can wait to proceed, as you can also add some personal information.
One idea would be to draw a background, and if you did, you could also include some famous quotes from Harriet Tubman.
Step 6
You can finish with some colours for this last step of your Harriet Tubman drawing! In our sample image, we kept the colours realistic.
This means we used beautiful dark brown tones for her hair with some lighter shades for her skin tone. So we ended up with some vegetables for her clothes.
You could use colours similar to the ones we used, but you could also use some less realistic colours for a more stylistic approach to the image.
Your Harriet Tubman Drawing is Finished!