Cristiano Ronaldo and his partner Georgina Rodriguez, who is the focus of a Netflix documentary series, have announced the death of their baby boy.
Cristiano Ronaldo and his partner Georgina Rodriguez have announced the death of their baby boy.
Ronaldo posted a message on social media about their devastating loss, which they described as "the greatest pain any parent can feel".
The couple, who have been together since 2016, were expecting twins, with their baby girl surviving and giving us "the strength to live this moment with some hope and happiness."
Ronaldo's partner Georgina Rodriguez may not be as famous as her other half, but she's the focus of a Netflix documentary series – that's all you need to know about the Spanish model.
Who is Georgina Rodriguez?
Rodríguez is a Spanish model who was born in Argentina on January 27, 1994. She grew up in the town of Jaca near the French border and reportedly moved to live with a family in Bristol, England, where she worked as an au pair.
After studying English in London, Rodríguez switched careers to modeling and social media influencers.
She currently has nearly 30 million followers on Instagram and regularly posts pictures and videos of herself working out.
She has also appeared on the cover of the Spanish edition of Cosmopolitan as well as on the cover of Grazia, Women's Health Portugal and also in Elle Italy.
When did she and Cristiano Ronaldo get married?
Rodríguez and Ronaldo are not actually married but have been together since 2016.
The two met at the Gucci store in Madrid, where Rodríguez worked as a salesperson. In an interview with AS Rodríguez recalled that he was very nervous when she first met the footballer.
She said: "His height, his body, his beauty caught my attention. I trembled before him, but a spark ignited.
"I am very shy and maybe it upset me more in front of a person who touched me very deeply with just one look.
"The rest was done by the way Cristiano treats me, how he cares for me, and how he loves me."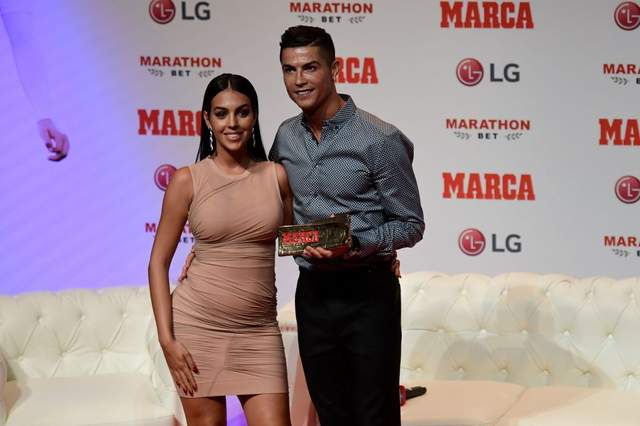 However, establishing a relationship with one of the world's most famous footballers was not always easy.
"The situation has become unbearable," Rodriguez explained to Grazia. "I was pursued.
"They called me, reporters pretended to be customers and came to the boutique… I gradually began working behind the counter to limit the press's aggressive curiosity.
"It was unsustainable at one point: I had changed, but they were still all around me." I can't go out because there is always someone who wants to photograph me. That's why I'm always concerned about my safety."
They have children?
Ronaldo and Rodríguez welcomed their first child together, daughter Alan Martin, on November 12, 2017.
In October last year, the couple announced that they were expecting twins. They announced the news on Instagram with a photo of ultrasound images.
"We are delighted to announce that we are expecting twins," he wrote. Our hearts are overflowing with love, and we can't wait to meet you #blessed."
Only the girl survived the birth, according to the family, who said, "It is with the deepest sadness that we have to inform you that our little boy has passed away." We are all devastated by this loss and respectfully request privacy during this difficult time."
Ronaldo's other children include his son Cristiano Jr who was born on June 17, 2010 in the US and whose mother has never been publicly revealed.
I'm talking to E! News of the arrangement Ronaldo said: "With the consent of the mother, who wishes to remain anonymous, I will have sole custody of my son."
Ronaldo also welcomed twins Eva and Mateo, who were born on June 8, 2017, also in the States, via an anonymous surrogate shortly before Rodriguez gave birth to Alana.
What is her Netflix series about?
Rodríguez stars in her own new Netflix documentary series, I am Georgina, which Netflix describes as "an emotional and in-depth portrait of the woman behind the covers, photos, stories and big headlines."
The series will delve into every aspect of her life, from the public to the private.
"We will share her daily life, motherhood, relationships, travel, and parties…"
"We get to know who Georgina Rodríguez really is," says Netflix.
Source:  https://www.nationalworld.com/culture/television/georgina-rodriguez-who-is-cristiano-ronaldo-wife-partner-children-kids-i-am-georgina-netflix-3544577