Are you trying to figure out the best time to visit in Dubai for honeymoon? Then this post will cover everything about when to plan for your honeymoon to Dubai.
The primary reason newlyweds go on honeymoons is that it is a long-standing tradition for them to escape the stress of the wedding and spend time together in a new location. Adventure and adrenaline rush-type pursuits are precisely where the new generation finds themselves around each other in discovering one other.
Currently, all the newlyweds are opting for their honeymoon in Dubai's lively, dynamic, and vibrant metropolis, and why shouldn't they? In addition to the wealth of shopping, dining, and entertainment options, Dubai offers travelers a wide range of options. Moreover, it's a surefire way for honeymooners to get to know one another while having fun in this vibrant city.
Since you have so many options in this lovely city, it may be difficult for you to arrange your honeymoon entirely on your own. With Roaming Routes, you can discover the best time to visit Dubai for a honeymoon and book Dubai honeymoon packages accordingly.
So now let us check some details about the best time to visit Dubai from India.
Best Time To Visit In Dubai For Honeymoon – Hotel Availability
For reserving a hotel in Dubai, the optimum period seems to be between mid-May and the end of July. Further, you can consider booking during the August last week and the final week of September. During these summer months, room prices drop significantly due to decreased visitor arrivals as expatriate residents return to their home nations.
As an alternative, peak hotel rates in Dubai occur during January last three weeks and February, the final two weeks in March, the 2nd and 3rd week during October, and the final week in December.
As a consequence of an increase in international business people visiting the emirate and a spike in tourist numbers during the colder weather season, hotel room prices may rise.
Flight Pricing
The sacred month of Ramadan is perhaps the best season to visit Dubai since the flights are cheaper. Because Ramadan is a period of prayer and fasting, numerous restaurants will be closed throughout the day. Further, other events won't occur. Additionally, visitors are less inclined to visit Dubai throughout Ramadan due to the absence of any activities. Despite these restrictions, you'll be able to save a lot of money on your expenditures. Make careful to verify the dates of Ramadan before you plan a trip during Ramadan.
Winter in the city brings a wealth of possibilities for fun in the fresh air. The most inconvenient time or the not the of year to visit Dubai is during the summer, particularly during the holy month of Ramadan. When visiting Dubai in the summer, the only things to do are shopping and going on a nighttime desert safari. Hence, it is not the best time to visit Dubai for a honeymoon.
Best Season To Visit Dubai
If you consider the best month to visit Dubai, it is probably from November to March during the winter periods. Temperatures are more bearable, and travelers can enjoy the city's attractions. The city is a beautiful place to visit, but it's crucial to plan your vacation to Dubai from India at the proper time.
Further, the summer months in Dubai are arid, with just a few sprinkles of rain falling on the city. The shoulder season for Dubai tourists is from April to October when flights and accommodation are less expensive. At the same time, the ideal time to visit Dubai would be during the winter months so that visitors may get the most out of their holiday and explore the city.
During November through March, temperatures range from 17°C to 30°C.
Due to the high volume of visitors to Dubai to sunbathe during this period, booking a hotel room at least a few months in advance is highly recommended.
Visiting Dubai during the summer months is terrible since the temperature soars to a dangerous level. One can't enjoy any outside activities or relax on the beach because of the oppressive heat. Despite this, individuals may easily find a place to stay at a price they can afford.
Ramadan and Dubai Summer Surprises are two events observed at this time of year in Dubai. However, please remember that the nightlife is more subdued, and commercial hours are drastically reduced throughout Ramadan. So expect little of a good time.
Best Time For Desert Safari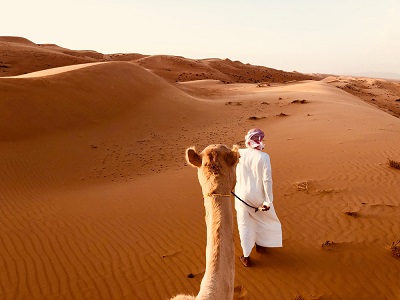 The best time to visit Dubai for honeymoon and enjoy Desert Safari is between November and March when the intense heat won't be a problem. If you like adventurous activities such as sandboarding and quad riding, a day excursion is great for Desert Safari. Evening activities include entertaining shows, delectable meals, and other equally tempting events.
Best Season to Enjoy the Beaches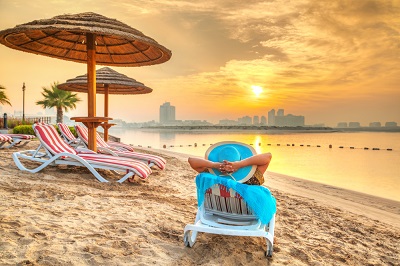 The first things that spring to mind when we think of Dubai are the calming sun's warmth, the lovely sandy beaches, the blue sky, and the clean seas, which entice us to spend our whole lives there. Further, Dubai is ideal for a vacation in the sun, with various alternatives to select from, such as the enchanting Kite beach and the magnificent Burj Al Arab. Enjoy surfing, partake in watersports, take short strolls, and observe nature at its finest.
Though you can visit beaches at any time of year, swimming in the chilly waters during wintertime is a 'chillingly' awful idea. Summers are the same way, with the blazing heat making the beach the last place you want to stroll. So, the periods of April and May are your best option, with temperatures ranging from 25°C to 28°C.
Final Say
The ideal time to travel to Dubai is between November and April when the weather is cooler. Even if flights to Dubai are somewhat more costly, this is the best time to visit Dubai for honeymoon. If your budget allows, you may want to consider going to Dubai during the Dubai Shopping Festival in December/January.