The CMA Inter Syllabus is broader; hence it can be challenging for students to complete the entire syllabus. Moreover, for the 2020 session, the CMA Inter Result who passed both groups was about 18.53%. However, we don't wish to discourage the readers with this percentage. Instead, we are here to help CMA aspirants with a solid preparation strategy to help them clear their CMA exams.
The CMA examination may be challenging for several reasons. However, it is not only an issue of difficulty; students often lack sufficient coaching. Also, you must understand all the CMA intermediate subjects to appear confidently.
A good study strategy, self-confidence, and time management are crucial to passing the test. With sufficient commitment and preparation, the complexity of the CMA examination will not restrict your chances of passing. In this post, VSI Jaipur brings some essential tips to help you clear CMA exams in the first attempt and how good coaching can positively impact your results.
Study Tips for the CMA Inter Syllabus 2022
1. Understand your Learning Style
Different individuals have different learning styles. For some, reading the book might work. For others, listening to audio-visual content or attending coaching might greatly help. Hence, the most important thing is to understand what works for you. Accordingly, you must select coaching, opt for other books, or enroll in any online course.
2. Understanding the Syllabus, Subjects, and the Group to Clear
The CMA Inter syllabus 2023 is categorized into two groups, each having four subjects. Hence, first, you must decide which group to clear first. Further, thoroughly understand each group's syllabus and course content. It is better to appear in a single group instead of rushing and appearing in both groups. Conceptual clarity matters. But, if you have the confidence to clear both groups, you might opt for it. 
Students can download the CMA Inter syllabus pdf from the official website of ICMAI.
3. Create a CMA Inter Study Plan
The next strategy for preparing the entire syllabus is an effective CMA Inter study plan. Having a timetable and study plan helps you finish the course curriculum before time and allocate sufficient time for revision and practising mock test papers.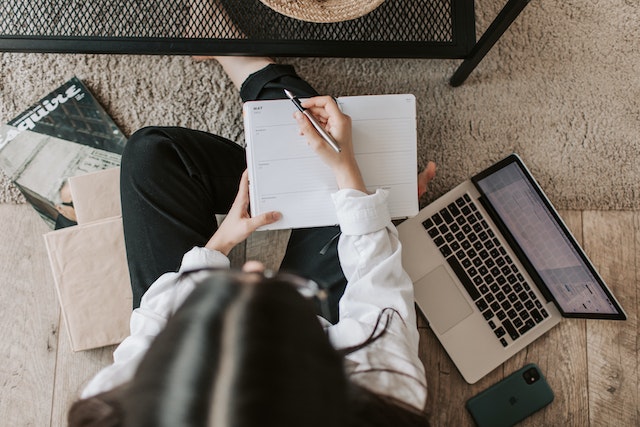 4. Following your Timetable
The next thing to note while completing the CMA Inter Syllabus is religiously following your timetable. So this will help you to track your progress and be on track to effectively complete the syllabus on time.
5. Try to Revise the Syllabus at least Three times
The CMA examination should be taken seriously. You must have conceptual clarity of all the subjects. Furthermore, revising the CMA intermediate syllabus alongside the studies is the easiest solution. So, once you cover any topic, go for a quick revision and point out the things troubling you.
As a result, transforming a topic from memorized to mastered ensures that you will have no trouble remembering it on exam day. Also, you can focus more on the areas troubling you.
6. Take Short Breaks.
In the long term, constantly sitting for eight hours to cover the CMA Inter Syllabus is ineffective. As a result, it is advisable to break the studying into shorter, more manageable parts during the day. Therefore study for an hour, take a 15 min break, and then go over the things you just studied again.
7. Appearing Mock Tests in an Exam Environment
Students can reduce their exam-day anxiety by practising with a mock CMA inter-question paper. Furthermore, knowing the question format can save you valuable time during the examination.
Do you Need Coaching for CMA Inter Exams?
Coaching plays a significant role while preparing the CMA Inter Syllabus. Although for some, coaching may not be essential, with proper guidance, you improve the chance of securing a rank in CMA. Here are the benefits of joining CMA coaching.
1. Learning from Experienced Faculty
Undoubtedly, teachers have a major role in a student's success. Moreover, with a certification program like CMA, it is essential to join proper coaching. Reputed coaching like VSI Jaipur has top-notch faculty and experts who can help students learn the most difficult topics of the CMA Inter Syllabus in the best and easiest manner.
2. A Great Learning Environment
CMA preparation needs a good environment so that students have no distractions and an optimum learning environment. When a student studies in a competitive study environment, it helps in breaking their current limits and going the extra mile.
3. Better Guidance
Good guidance also plays a major role in a student's CMA exam success. Moreover, this helps the teacher and student follow up and communicate their difficulties better. With VSI Jaipur, students can remain in contact with teachers through various means and seek assistance when necessary and resolve doubts regarding their CMA Inter Syllabus.
4. Convenient Class Options
Gone are those days when you need to travel to a coaching institute. Instead, coachings now offer recorded or online classes. Hence, you can do your class conveniently from your desired institute. Many institutes offer both online and recorded classes along with mock tests.
So, as you can see, there are several benefits of joining CMA coaching, and the chances of clearing your exams also increase. VSI Jaipur, being the best CMA Inter coaching, will guide students and help them clear the exams in a single attempt by covering the CMA Inter Syllabus on time.
Conclusion
Clearing CMA can be challenging without better guidance. Yet, with VSI Jaipur, success is assured and you can clear CMA with your hard work and VSI guidance. To know more about VSI's CMA classes, contact us today.