The Fall color of the October glory maple is a bold, fiery red. Its broad canopy creates an impressive shade and grows up to 5 feet yearly. October Glory Red is the autumnal staple. It is a fast-growing tree that will make an excellent choice for the shade of your home.
Autumn Blaze red maple
The autumn Blaze red maple, also known as the Acer freemanii, is a naturally occurring hybrid between the Acer saccharinum and Acer rubrum species. It is native to eastern North America. The foliage of this tree is red with yellow highlights. This maple is widely grown as a landscape shrub.
The Autumn Blaze maple tree is drought-tolerant and can grow in clay soil. Planting in the fall will help the tree establish itself and maintain moist soil around the roots. This tree needs approximately six to eight hours of direct sunlight daily, but it tolerates occasional drought. The Autumn Blaze maple tree is a fast-growing tree that is tolerant of USDA hardiness zones 4 to 8.
The Autumn Blaze red maple has become one of the most popular maple varieties in the country, thanks to its bright fall color and fast growth rate. It grows about three to five feet yearly, has a uniform canopy shape, and is surprisingly disease and insect-resistant. Its rapid growth rate and uniform foliage profile make it ideal for planting in many landscape settings.
Crimson Queen Japanese maple
The Crimson Queen Japanese maple is a beautiful, striking tree suited for gardens and containers. It does best in moist, well-drained soil and is tolerant of both full sun and partial shade. It also grows well in slightly acidic, rich soil. Although it is pretty drought tolerant, you should continue to water it regularly, particularly during the hottest months.
The crimson queen Japanese maple is a low-branching tree with fine-textured leaves. It is most striking when the leaves emerge in bright red in spring, darkening to burgundy by summer, and finally finishing in brilliant scarlet red during the fall. The Crimson Queen can tolerate more sun than many other Japanese maples but prefers full shade.
Its autumn foliage is stunning, lasting weeks. Its small, red flowers attract a variety of bird species to the garden. Its bark is a soft gray.
Fall color of October glory maple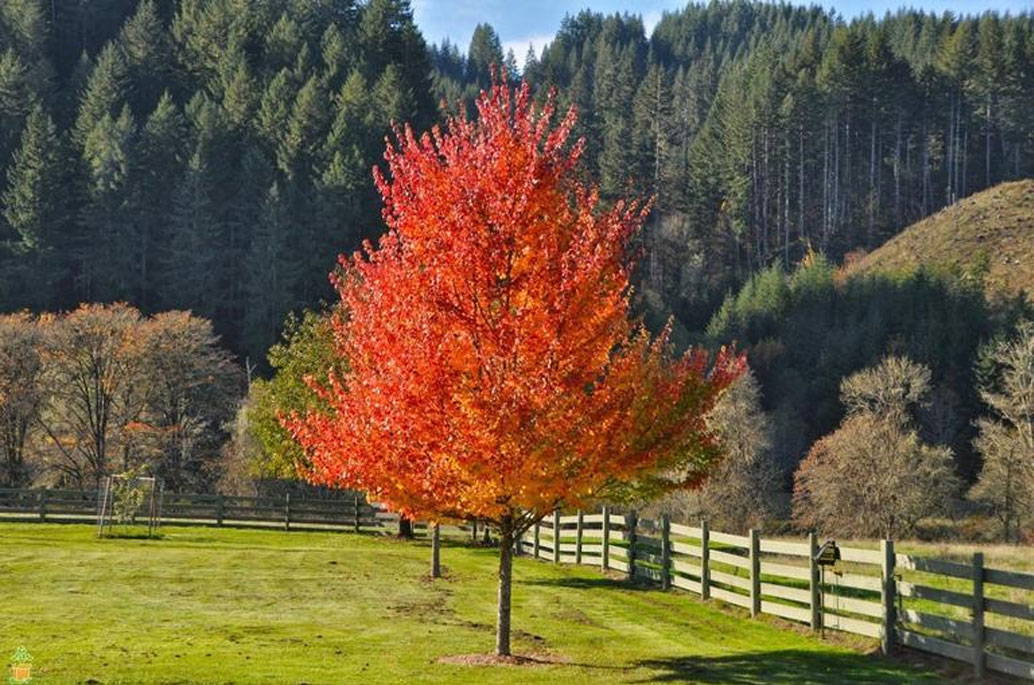 If you're looking for maple with spectacular fall color, the October Glory maple is one of the best choices. This fast-growing tree is adorned with striking red foliage that stays on the tree for several weeks. The foliage is attractive and attracts numerous bird species. Its bark is a soft gray. The fall color of this maple is best appreciated in the fall and is one of the last red maple cultivars to color up in the fall.
The October glory maple has an oval to the rounded crown and is a fast-growing tree with solid wood. It can reach a mature height of 25 feet and a width of between 25 and 35 feet. When young, its leaves are arranged in opposite directions. The tree can be grown in full or partial shade. It is tolerant of acidic soils and can withstand long periods of soil flooding.